Red Velvet Champagne Mini Cupcakes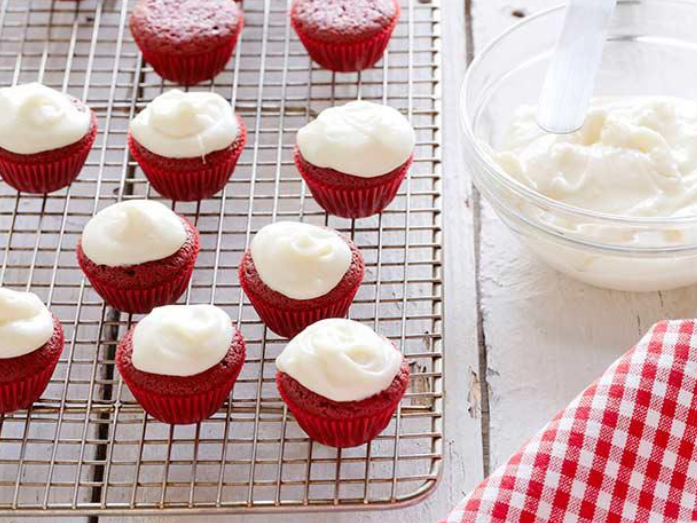 Red Carpet Red Velvet Champagne Mini Cupcakes
with Cream Cheese Frosting
If you've listened to the podcast episode that features this recipe and my Oscar rundown, you'll know by now that softcore fishporn won best picture. That was a disappointment. However, these cupcakes were not. In fact, they are scrumptiously delicious, alone or paired with a glass of your favorite prosecco, champagne, or sparkling wine!
Red velvet has never been my favorite sweet treat--I'll take a dark chocolate something any day. But when I was asked to bring dessert to the annual Oscar party my friend Liz hosts, I jumped at the chance. Give me any reason to bake or try out a new recipe. Seriously. Oh, is June 4th International Hug Your Cat Day (this is truly a real thing)? Let me bake something to celebrate that.
So I did a bit of Pinteresting, and came across this recipe for champagne red velvet cupcakes from AttaGirlSays, who served them at her Oscar party. Makes sense to me--I knew there was going to be champagne at my Oscar party. I mean, half the fun is drinking bubbly and checking out the fashion choices. I knew cupcakes baked with bubbles would be perfect.
But then the naming inspiration struck. Half of Hollywood walks down the red carpet before the Oscars start. Red velvet cupcakes are...red. Do see where I'm going? So I put aside my red velvet qualms, donned my apron, and popped a bottle.
Pro-tips: Pop a large enough bottle so that you can bake and drink while baking.
Also, if I can make anything bite-sized, I do, because that means I don't feel as bad when I stuff my mouth with five of them. But if you feel like full-sized, pull out the regular muffin tin and go for it.
Red Carpet Red Velvet Champagne Mini Cupcakes with Cream Cheese Frosting
Adapted from AttaGirlSays Champagne Red Velvet Cupcakes
Serves 48 mini cupcakes
Ingredients For the cupcakes
2 ½ cups all-purpose flour

1 ½ cups sugar

1 tsp baking soda

1 tsp salt

1 tsp cocoa powder

½ tsp espresso powder (not necessary, but if you have it on hand, it will complement the flavor of the cocoa powder so well)

1 ½ cups vegetable oil

1 cup buttermilk

1 cup champagne (I used La Marca. Go for something on the dry-medium side--nothing overly sweet).

1 1-oz bottle of red food coloring

2 large eggs at room temperature

1 tsp white distilled vingegar

1 tsp vanilla extract
For the frosting
8 oz cream cheese, softened

¼ cup of unsalted butter, softened

1-3 cups of powdered sugar (I only used a little over a cup of powdered sugar, but that's because I prefer my cream cheese frosting on the tangier side. If you like it sugary sweet, dump it on in).

1 tsp of vanilla extract
Instructions For the cupcakes
Preheat the oven to 350 degrees. Line mini muffin tin with 48 mini cupcake liners.

Sift together flour, sugar, baking soda, salt, cocoa powder, and espresso powder.

In another bowl, combine the oil, buttermilk, champagne, food coloring, eggs, vinegar, and vanilla extract. Whisk.

Slowly add the dry ingredients and use a hand or stand mixer on medium until batter is combined and smooth--no lumps!

Spoon batter into cupcake liners. Fill about 2/3rds of the way up.

Bake at 350 degrees for about 12-15 minutes. Or this is about how long mine took. You want cupcakes that are springy to the touch and a toothpick that comes out clean. Ovens may vary.

Drink some champagne while you wait for the timer to ding.

Once they pass the toothpick test, remove from oven. Cool for 5 minutes (or until you won't burn your fingers off taking them out of the tin), and put them on a rack to cool completely.
For the frosting
Use a stand or hand mixer to cream together the cream cheese, butter, and vanilla extract.

Add one cup of powdered sugar, beating on low, until combined. Taste test. If you want it sweeter, add in ½ cup increments until your sweet tooth sings. Once you're good, increase your mixer speed to high and beat until light and fluffy. Just don't overmix.

Once cupcakes are cooled, frost away. If your piping skills are on point, you do you. I'm still working on mine, so my go-to frosting trick for mini cupcakes is to spoon on a small heap and smooth it out making circling motions with the back of the spoon.

Decorate! I had these pretty pearl-type edible things, and some glitter stars, which were perfect for cupcakes being served at a Hollywood party! You can also serve as is--I mean, they have champagne in them, so they're already pretty fancy.
Holler at me if you make these and tell me what you think! I have lots of other Bubbly Baking ideas in my brain that I'd like to try out, but are there any that y'all have in mind, or that you've baked before?